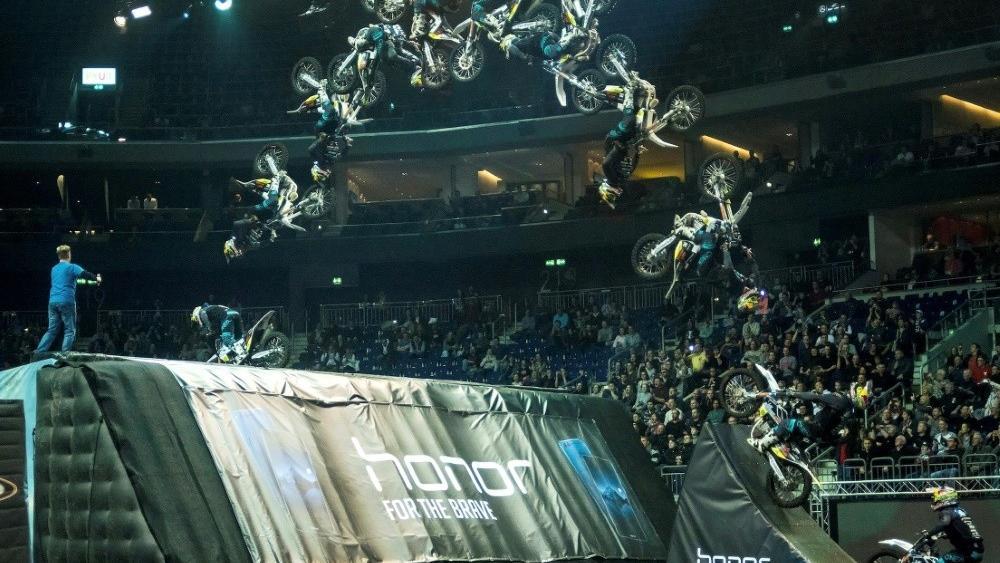 Der Double Backflip von Luc Ackermann in Berlin © NIGHT of the JUMPs/NIGHT of the JUMPs
Ackermann steht als jüngster Freestyle-Motocrosser im Contest "Double Backflip"
17. Februar 2018
Berlin (SID)
Luc Ackermann hat wieder einmal sein Ausnahmetalent unter Beweis gestellt. Der Freestyle-Motocrosser aus Thüringen zeigte im Finale der Night of the Jumps in Berlin einen "Double Backflip", einen doppelten Salto rückwärts, und ist mit 20 Jahren der jüngste Starter, dem dieses Kunststück in einem Wettkampf gelang.
Im vergangenen Oktober hatte Ackermann den Trick im österreichischen Piperbach zum ersten Mal gezeigt, seitdem hält er den Weltrekord. Ackermann sprang den Double Backflip als jüngster Fahrer der Geschichte.
Die Night of the Jumps ist Teil der FIM Freestyle MX World Championship. Ackermann liegt in der Gesamtwertung mit 36 Punkten auf dem zweiten Platz hinter dem spanischen Weltmeister Maikel Melero (40 Punkte), der sich in Berlin den Sieg sicherte. Bereits am Samstagabend hat Ackermann die Chance, Melero an der Spitze abzulösen. Dann findet in Berlin der dritte WM-Lauf statt.
Autor: sid